Ka'lee Reynells
Biographical Information
Homeworld
Born

3,666 BBY

Physical Description
Species

Human

Gender

Female

Height

5'7"

Hair color

Red

Eye color

Hazel

Information
Spouse
Children
Affiliation

Mandalorians
Bounty Brokers Association
Fool's Luck
Ka'lee Reynells was born in 3,666 BBY on the planet Dantooine. She was originally called Ka'lee Kelbron and was apart of the Kelbron Mandalorian clan. She later married Wade Reynells in 3,644 BBY. She originally started out as a Bounty Hunter serving the Empire, but later joined the |421st and the Bounty Brokers Association so she could be closer to Wade.
Section heading
Edit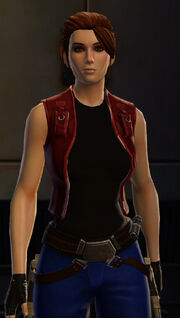 Write the first section of your page here.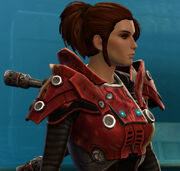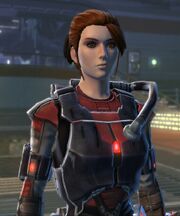 Section heading
Edit
Write the second section of your page here.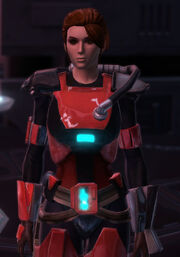 Also Seen In
Edit
Star Wars: Overkill Squad
Edit
In the d20 Campaign of Star Wars, set during the Rebellion era, Ka'lee Reynolds is the wife of Wade Reynolds. Although not officially apart of Overkill Squad, she helps out whenever she can.
Final Fantasy XIV
Edit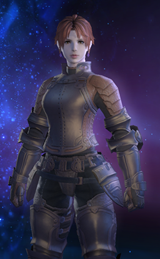 Noteable Mentions
Edit
Champions Online
Dark Souls
Dragon Age: Origins
Elder Scrolls V: Skyrim
Fire Emblem: Awakening
Fallout: New Vegas
Kingdoms of Amalur: Reckoning
Pokemon X
Rainbow Six: Vegas 2
Star Trek: Online
XCOM: Enemy Unknown
Character Inspired By
Edit
Kaylee Reynolds was inspired by Barbara Gordon, namely from the series The Batman.